Neinor Homes is the leading industrial company among the real estate developers in Spain. With more than 30 years of history, it specializes in residential developments and currently has more than 270 professionals spread across the country.
Admira is the technology partner of Neinor Homes in its digital transformation, which began in 2017. Sales on-screen have been replaced by audiovisual experiences that have revolutionized the real estate market.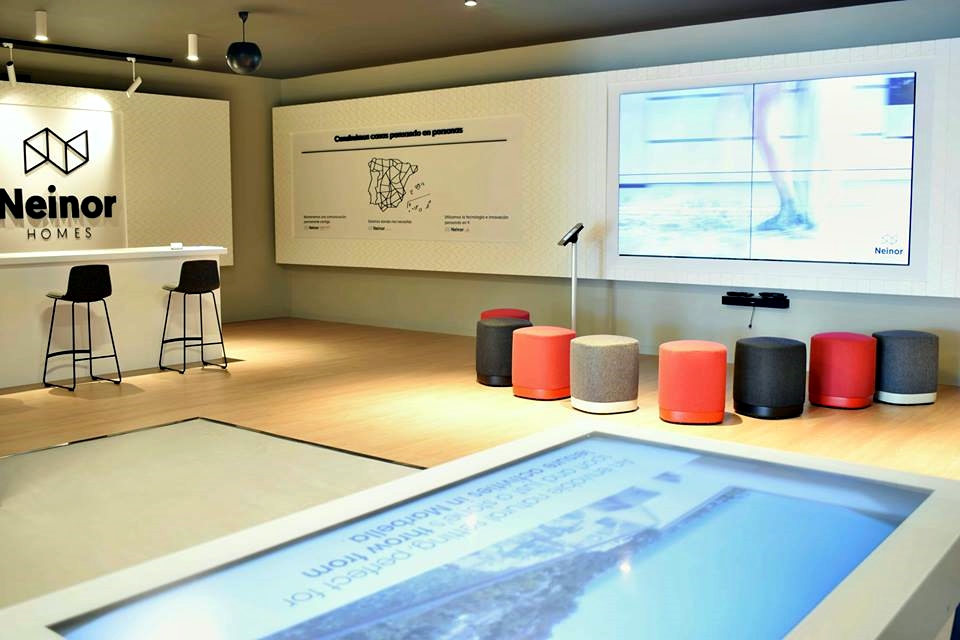 "The use of digital tools will make life easier for clients, showing them and helping them understand, in a more frank and transparent way, what their future home will look like"
Experiencias inmersivas e interactivas
Within the point of sale are different customer service areas. On the one hand, the digital signage of the experience "Neinor Community" and "Neinor Residence", with large-format video walls where commercials can share content with their clients instantly. On the other hand, the development of tactile applications for the "Neinor Square", where tablets and interactive tables replace the traditional models. Finally, the integration of the home automation (lighting and sound) of the entire store into the same Admira platform.
INNOVATION NETWORK
The Garage · Barcelona
(+34) 934150930
Lab and Showroom · Barcelona
(+34) 930274035
The Forest · Sitges
(+34) 934150930
Hub Madrid
(+34) 910376906
Hub Portugal · Porto
(+35) 1308800332
Hub USA · Miami
(+1) 9549959971
Hub Mexico · Guadalajara
(+33) 35608276
Hub Australia · Sydney
(+61) 499 053 288

© 2006 – 2022. Admira Website | All rights reserved.